Business Telephone systems
We are the Avaya Certified Experts in the Reno area
Systems we service:
Avaya, Partner, IP Office
Nortel, MICS, CICS, Norstar, BCM 50, BCM 450
Full VOIP Phones and Services
We Specialize in Business Telephone systems that fit small business needs, we can tailor a system for you that will save you money and give you features that will make your entire office more efficient and handle your calls correctly.
Ask about our phone system servicing and repair.
---
Avaya IP Office
The Avaya IP Office system is a scalable system that can be as small as two phones to 3000, if you have multiple sites or locations we can tie them together and make them seamless.
Save money by: Deploying a hybrid solution. Use IP, digital, analog or SIP technology in any combination. Use SIP trunking, this uses VOIP based on Session Initiation Protocol and delivers your phone service via the Internet. Can save your hundreds per month.
Supported telephony devices
IP phones
Digital phones
Analog phones
Softphones
Analog and Digital Cordless (including DECT)
Any mix of the above
---
The Communications Solution That Just Works
Star2Star's Unique Architecture, Unrivaled Customer Service And Support, And Unmatched Dedication To Our Partners' Success Make Us The Ideal Choice For Customers And Partners Alike
Star2Star offers products and services to our customers and partners that are unmatched in the industry, and our satisfaction rates reflect this. Star2Star customers love the level of call quality and reliability that competitors just can't provide, our peerless advanced unified communications (UC) features, our total commitment to their satisfaction, and much more. Our partners and customers love that we do all of the heavy lifting, allowing them to focus on building relationships and selling. No one in the unified communications as a service (UCaaS) space can rival Star2Star's full service quote assistance, deal registration and protection, sales and discovery support, marketing program, pre-sales engineering, implementation and installation services, or ultra-reliable solution that just works.
---
A sophisticated system that keeps you connected to customers
Unlike many competitors' systems, Allworx gives you the luxury of choice in telephone technology. Our systems support both analog and VoIP phones — in any combination. That means you can adapt new technology all at once, or build up gradually. Either way, you have entered into the world of effortless communication.
How do you decide whether to stay with analog or switch to VoIP? Allworx can help you determine which phone is right for you.
User features:
Full PBX & Key System
Presence Management
Multi-site Integration
Unified Messaging
Voice Over Internet
---
A pure VoIP and fully SIP compliant solution designed specifically for hospitality for any size hotel.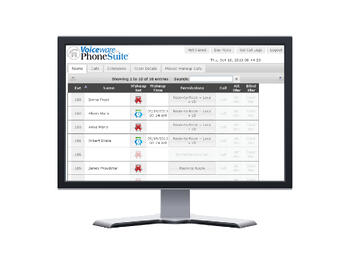 Technology is changing the way we do business, and the expectations of our customers. Take advantage of the advances in communication that captures the attention of your guests, lowers your operating costs, and improves your customer service. Voiceware runs anywhere, runs anything, provides a unique browser-based front desk console, and does it all without expensive equipment upgrades.
Today's Technology with the Future in Mind
Built using the latest VoIP technology, Voiceware is designed specifically for hotel use. It is based on an open standards platform to further protect your investment by not tying your phone system to a proprietary platform, and to facilitate new features and functionality as technology continues to evolve.
How it Works
For Your Guests:
Wakeup calls and voicemail prompts are delivered in the guest's native language – with additional options including scheduling of daily, weekend only, and weekday only. Wakeup messages can include the weather forecast, snooze, and transfer to room service options.
Extensive guest information, automated answering, automated messaging, and voicemail.
Check out from room phone option (requires property management system with remote check out interface enabled).
Compatible with all hotel guest phone speed dial buttons, whether SIP or analog.
For Your Front-Desk:
Powerful browser-based console offers more functionality and an intuitive and easy-to-use interface.
Find guests or staff easily by name, then one click to call or transfer a call.
Pop-up screen of guest information any time you answer a guest's call including name, native language, VIP status, group affiliation, outbound dialing permissions, wakeup calls and more.
Setting wakeup calls is intuitive and fast with a complete activity log to see who set, answered or canceled wakeup calls.
Integrates with all known Property Management Systems.
For Your Staff:
Ability to run full-featured SIP phones from a variety of manufacturers, including soft phones.
Extensive find me / follow me capabilities.
Voicemail to email forwarding.
Ability to handle multiple calls simultaneously.
Unlimited call / staff groupings, ring groups, and role-based queues.
Automatic or on-demand staff call recording.
Unlimited number of extensions.
Advantages
SIP or Analog — Run the latest SIP phones or your existing analog phones in the guestroom – your choice. Either way, your staff and guests can utilize the full set of advanced features available in Voiceware.
Host it Your Way — Voiceware can be run locally or hosted "in the cloud," offering your choice of a CAPex- or OPex-weighted approach. This also allows you the ability to keep system maintenance responsibility within your organization, or utilize the experts at PhoneSuite to monitor and update the system for you.
Feature Rich — The best of today's and tomorrow's phone system technology, with powerful, modern administrative features, advanced guest tools and interaction capabilities, and a new and more efficient approach to front desk communications. New features are added quarterly – based on market needs and your requests.
Scalable — Voiceware runs any size hotel with the same set of features. No property is too big or too small. Starting now, your phone system can be consistent among all your properties
Economical — PhoneSuite has been the hospitality-focused phone system price leader since 1998, and this philosophy continues with our latest technological advance. We are focused on providing the hospitality industry with more features at a better price.
---
Business Telephone Systems is our Business, Communications is more important now than ever, leave it to FCC Communications, Inc. to do it right!
Ask about our consulting services